We're still picking at the remains of Thanksgiving dinner here at my house, still delighting in turkey and stuffing (a once a year thing), sweet potato casserole and apple crisp. Thanksgiving is, in many ways, the loveliest of holidays, both because of the sentiment and the fact that you never have to ask, "What're we eating tonight?"
We had a nice time here, though we were bothered with the coldest weather of the year on Thanksgiving morning–the thermometer on the backside of my house registered about -18F at 6am, and I don't think it ever got into double digits on the day. Brr. So much for making that new tank of oil last! On Saturday, we went to see Bohemian Rhapsody. Good film from a film's perspective, though I'm not sure how accurate a biography it is, and it had a curious way of dealing with Freddie Mercury's homosexuality, but more on that next week, perhaps. I also read (in a day) Stephen King's newest book, Elevation. I enjoyed it, wished there was a little more of it (something I haven't said about King in a while), but also more on that in another post.
I haven't spent much time writing this past week. Of course, part of that is just being busy. Picking up and dropping off the Catbird burns two days out of the week, Thanksgiving itself can be hard to write on, going to movies, etc. (oh, the Bruins had a couple of games this week, too). There's not a lot of time. But the other issue is I haven't quite found my way in to the next project yet. Over the course of the week, I've been dropping a hook in the water and jigging it around, looking for a bite. I've written 3200 words, but there's nothing cohesive there, not yet: a single paragraph description of the overall plot, a couple of scattered ideas for scenes, with dialogue between nameless characters. I'm waiting for something to really grab the hook and run: the right voice to tell the story in, the character who will assert themself as the hero (or Great Enemy), the scene that will really kick the whole thing off. So far, only the barest ripple on the water, the slightest movement of the hook to indicate that something might be nibbling. But I think there's something there, just beneath the water. I hope it's a big one.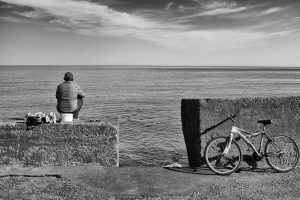 How do you get yourself into a new writing project?