This weekend, we visited family in Washington, DC. Aside from a few hours almost thirty years ago where my soon-to-be wife and I visited the National Zoo, I have never been there. On Saturday, we were fortunate to have good weather for our visit to the monuments. We started at Lincoln, worked our way through the Vietnam Veterans Memorial, to the Word War II Memorial, and circled the Washington Monument (it's closed for repairs, so you can't get closer than the path that encircles it). From there, we went over to the Smithsonian National Museum of American History, where we took a tour with a knowledgeable and personable docent (I recommend this; the museum is so big, it can be a bit overwhelming, as there's so much to see. What helped is we were the only people on the tour, so it was almost like a personal tour).
If you haven't toured the monuments before, I recommend it. DC is a funny place. To borrow a phrase from Jerry Garcia, "It's one of those places we've all been." (Though he was talking about Egypt) What I mean is that we see it on TV almost daily, as the backdrop to a talking head in the newsroom, in countless photo ops as Congresspeople stake their positions on issues. It's all over movies and TV shows. It's familiar, more so for me than places like Chicago or Seattle or Tucson. Those cities, I might recognize a landmark or two (well, maybe not from Tucson), but no city has been imprinted on my brain the way Washington, DC, has been.
What is most surprising to me is how big some of it is. Walking up the steps to the Lincoln Memorial, I was nearly overwhelmed by the sheer size of it, and the number of people who were there to visit. And, in truth, I was nearly overwhelmed with emotion as I stepped through the columns and found myself in front of Lincoln in his massive chair. I wasn't the only one. Though there was a lot of cheerful voices and some goofy posing, there were also a number of people tearing up, looking somber, almost grim. I was one of them. What I thought was, "We could use you today, Mr. Lincoln."
Indeed, that was the thought that ran through my head multiple times as we visited the monuments and museums. I found myself wondering if there is anyone in American politics today — certainly not the man residing at 1600 Pennsylvania Avenue — who could inspire and lead in the way of a Roosevelt, or Lincoln, or Washington. And I am, quite frankly, embarrassed at the way we are abdicating our role as the world's leader, abandoning our allies, and ceding pretty much any claim (even if it was always tenuous) to the moral high ground. We've done a lot wrong as a nation over the years, but we've also done an awful lot right. I hope it's not too late for us to really be great again.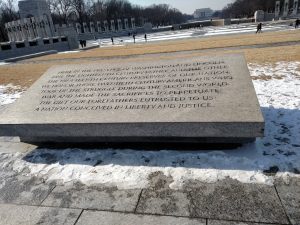 Entry to WWII Memorial; photo by me