I. Am. Thrilled.
I'm assuming if you're reading this you've already seen the cover for Powerless*, coming in August. Haven't seen it? No worries, it's right here! I'm thrilled with the cover, done by Laura Duffy Design**, and what can I say? Laura nailed it. There's a bit of a story behind this, a 600-word story, in fact, but I'll share that another time and just enjoy the heck out of this cover, this cover for my book! If you haven't seen it on the front page of the web site, here it is: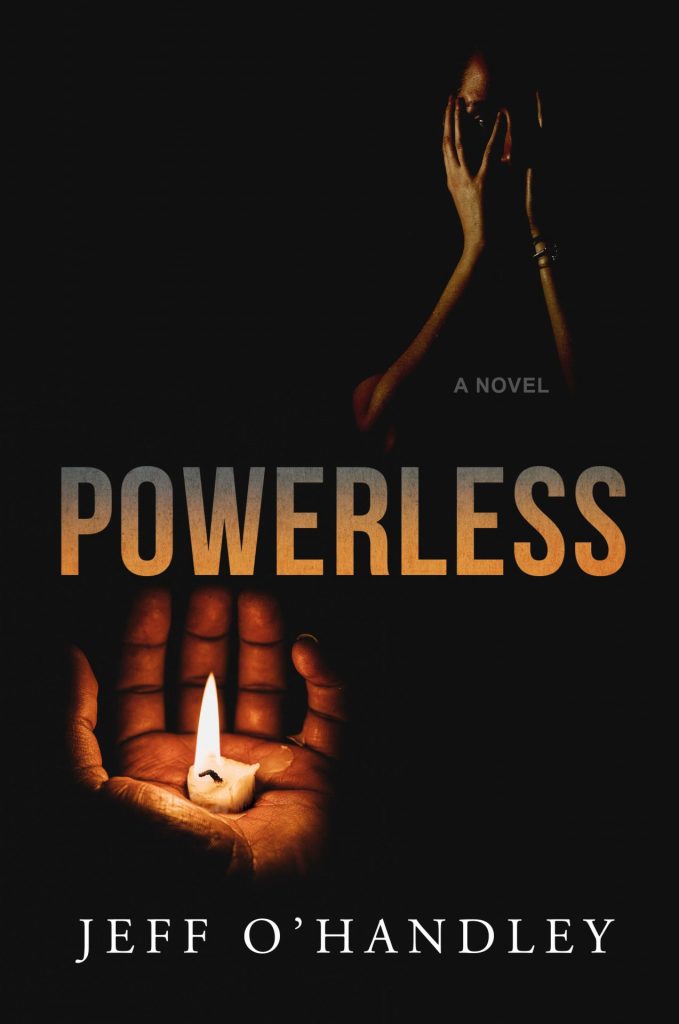 By coincidence I received a proof copy of the paperback yesterday afternoon. Even with the "Not for Resale" band across the cover, it looks great, it feels great (there's some heft to it), and…and I think that's all I can say, except let's post the reader description here:
When all goes dark, they're left alone. As starvation provokes chaos, can one man defend all he holds dear?

Sunspots, Al-Qaeda, North Korea—no one knows why the power goes out in sleepy little Harpursville, how much of the world is affected, or how long it will last. In one instant virtually every modern convenience stops working, leaving the townspeople scrambling.

For Kevin Barton, the problem is compounded by the presence of his sixteen-year-old daughter's best friend, Dina, who's been stranded at the house after yet another sleepover. When Kevin's attempt to escort Dina home ends in robbery and humiliation, their "second daughter's" overnight visit becomes a permanent stay. Kevin doesn't really mind. Dina helps with everything from hauling water to digging a garden, and she does it with a smile. But with food scarce and hunger eating away at reason, her large appetite and constant presence sets the household on edge, causing a rift between Kevin and his wife, Monica.

Help is offered by the man who stops Harpursville from sliding into everyone-for-themselves chaos but then he gives Kevin an unthinkable ultimatum. With the peace of the town and Kevin's own family hanging in the balance, he faces a two-front war. Can Kevin find the power in himself to protect everything he holds dear? Buy Powerless to shine a light on darkness today!
And there you have it! I feel obligated once again to thank Lisa Regan of Breaking Night Press for throwing her full support behind me and investing her time, energy and resources in me and this book. It is a very exciting time for me (terrifying, too, not gonna lie), and I appreciate you being along for the ride.
*One of the funny adjustments is getting used to the idea that I can now call this Powerless, not POWERLESS!
**One of the other things to get used to is seeing my book–my book–in other places. When I went to Laura's website I was shocked to see this cover right there on her front page!